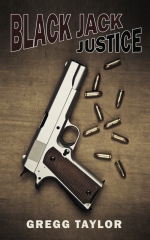 Black Jack Justice is the fourth book written by
Gregg Taylor
and published by
Autogyro Publishing
. It was released in early 2012 but copyrighted 2011. The book is dedicated to
Clarissa
, Max and Tess, "who slept while I wrote this".
It was a simple enough case. Sex, betrayal, sex, money, sex, murder and sex. But when a pair of His & Hers private detectives get involved, the sparks start to fly and the blood begins to spill in earnest. With every shot that's fired, the hole digs a little deeper, and the list of people our sparring shamuses can trust gets shorter and shorter.
Fans of Decoder Ring Theatre's award-winning full-cast audio series Black Jack Justice will delight in the very first meeting between Jack Justice and Trixie Dixon, girl detective. New readers will appreciate the fast tempo, the noir banter and the classic hard-boiled fell of Black Jack Justice!
Coming Soon!
I did not move. I am not skittish by nature, but I know the sound of a hammer being cocked when I hear it. This one was a large calibre automatic, which meant it wasn't a cop. I turned my head as slowly and non-threateningly as I could. It was my friend with the square jaw, and his friend the .45.
"Hi," he said.
Coming Soon!
Community content is available under
CC-BY-SA
unless otherwise noted.