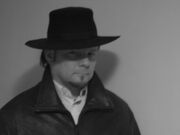 Jonathan Llyr (born 1966) is a Canadian actor and TV personality.
Llyr (sometimes credited as Jonathan Bryn Llyr) is best known for his work as an on-air personality for Space, Canada's science fiction specialty channel. He first appeared on that network in 1998 on its late-night movie interstitial program, SpaceBar, as the alien barfly and ultimate Star Trek fan, Grot. During the show's final year, Llyr also assumed writing duties, after fellow cast member and head writer Denis McGrath left the series.
After SpaceBar's 2002 cancellation, Llyr transferred to hosting Space's new entertainment news program, HypaSpace. He remained as host until 2005, when he was replaced by actress Kim Poirier. Llyr, however, stayed on as one of HypaSpace's reporters, sometimes standing in for Poirier as main host and eventually getting his own weekly segment, "The Scoop", an often tongue-in-cheek look at strange celebrity and science fiction media news items of the week. Llyr also hosted the weekly audio podcast version of HypaSpace. At the end of 2007, Llyr's contract with Space was not renewed, and his time with the station came to an end.
For several years during his time at Space, Llyr also introduced films on Space's sister station, Drive-In Classics, this time as the character of Drive-In Dick. Again, Llyr had writing duties for these segments.
Llyr is also a founding member of the Toronto, Ontario, based Shakespearean theatre company, the Tempest Theatre, and has appeared in various episodes of the Decoder Ring Theatre [1] specifically The Red Panda Adventures in different roles.
On May 1, 2008, Llyr and several colleagues launched their own podcast project, "Hardcore Nerdity" [2][3].
References and External links
[
]