Current Series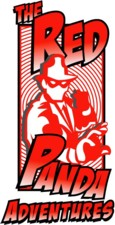 The Red Panda Adventures is a lighthearted adventure series in the style of old time radio that follows the 1930s adventures of " Canada's greatest superhero", the Red Panda, and his trusty sidekick, the "fearless fighting female" the Flying Squirrel, as they protect the citizens of Toronto from villains ranging from gangsters and supervillains to the supernatural forces of darkness. The series was created by Gregg Taylor of Decoder Ring Theatre.
Riddle of the Sphinx
Night Patrol
Rabbit Season
The Golden Claw
The Devil's Due
Death Danced at Midnight
Red Panda: Dead Or Alive!
Curse of Beaton Hall
The Shadow Hunter
The Ghost Ship
Duality
The Deadliest Game
The Hand of Fate
The Sunday Supplement
When Darkness Falls
The Sweet Tooth
Merlin's Tomb
Secret Origins
The Dream Factory
Monkeyshines
The Big Top
The Black Hand
The Hidden Door
The World Next Door
Brimstone Alley
Midwinter's Murder
Now, The News
The Opening Gambit
The Callaghan Mob
Tis The Season
The Red Squirrel
The Terrible Two
Barton's Charm
Empty Box
The Rat Lord
The Field Trip
The Third Wave
The Mask Of Death
Murder In The Castle
The Gathering Storm
Trial By Terror
The Boy In Blue
The Golden Idol
I Dream of Genies
Jungle of Terror
The Crimson Death
The Endgame
Operation: Cold Feet
Nightshade
Flight of the Bumblebee
The Puzzle Master
Just Like Clockwork
Murder Wears a Mask
Terror Walks the Night
The Secret City
A Dish Best Served Cold
Song of the Siren
Eyes of the Idol
Sins of the Father
The Great Fall
Dramatis Personae
Heroes
Known as The Terrific Twosome of Toronto, The Red Panda and The Flying Squirrel are the main heroes of the Red Panda Adventures.
Agents of the Red Panda
The Red Panda has a large network of agents working for him. Each of his agents is given a number, they report to one of several "Contact men". The Red Panda's agents come from all walks of life, both criminal and legitimate.
Allies of the Red Panda
Not all of the people that assist the Red Panda and Flying Squirrel are formal agents, some are just allied to the cause of justice. Some allies of note include Dr. Theodore Chronopolis, scientist-in-residence at the Toronto Museum, Captain Tom Sunlight, A daring, high-flying, adventurer and Maxwell Falconi, international stage magician and mystic protector of the mortal realm.
Other Players
Colonel Fitzroy - Status: Alive and Well A gun happy government agent.[1] Voiced by ?.
Villains
The Red Panda has many enemies, some are supervillains with powers both magical and technological others are criminal gangs, diabolic cults and underworld mobsters. The world of the Red Panda is also full of Minor Criminals and Flunkies, some even work for the Red Panda as agents. From time to time the Red Panda and Flying Squirrel must fight Aliens and Extra Dimensional Creatures bent on taking over Toronto, Ontario.
Other Groups and Persons of Interest
Super Groups and Mystery Men
      
      {{{3}}}
      {{{4}}}
      {{{5}}}
      {{{6}}}
      {{{7}}}
      {{{8}}}
      {{{9}}}
      {{{10}}}
      {{{2}}}
      {{{3}}}
      {{{4}}}
      {{{5}}}
      {{{6}}}
      {{{7}}}
      {{{8}}}
      {{{9}}}
      {{{10}}}
      
      {{{3}}}
      {{{4}}}
      {{{5}}}
      {{{6}}}
      {{{7}}}
      {{{8}}}
      {{{9}}}
      {{{10}}}
Newspapers
      {{{2}}}
      {{{3}}}
      {{{4}}}
      {{{5}}}
      {{{6}}}
      {{{7}}}
      {{{8}}}
      {{{9}}}
      {{{10}}}
      {{{2}}}
      {{{3}}}
      {{{4}}}
      {{{5}}}
      {{{6}}}
      {{{7}}}
      {{{8}}}
      {{{9}}}
      {{{10}}}
      
      {{{3}}}
      {{{4}}}
      {{{5}}}
      {{{6}}}
      {{{7}}}
      {{{8}}}
      {{{9}}}
      {{{10}}}
High Society
      {{{2}}}
      {{{3}}}
      {{{4}}}
      {{{5}}}
      {{{6}}}
      {{{7}}}
      {{{8}}}
      {{{9}}}
      {{{10}}}
      
      {{{3}}}
      {{{4}}}
      {{{5}}}
      {{{6}}}
      {{{7}}}
      {{{8}}}
      {{{9}}}
      {{{10}}}
References